The developers who are shaping the soon-to-come trendy Nora district turn their eyes to SoSo. 
The engineers shaping the hip Nora district north of downtown West Palm Beach are planning luxury rental homes on the south side of the city where new residential construction is in high demand following the pandemic.
NDT Development cobbled together about 1.6 acres on Nottingham Boulevard over the past two years for a proposed 28-unit townhome community that will go before a city planning committee Thursday, July 13.
The land is between Dixie Highway and the Florida East Coast railroad tracks in the popularsouth of Southern community. Nicknamed SoSo, the area has undergone a transformation with recent transplants and developers bulldozing mid-century and 1920s-era homes for new construction and, in turn, fueling a growth in trendy design shops and restaurants.
Ned Grace, a partner in NDT Development, said the original idea for Nottingham was to build 16 homes to sell but plans have since pivoted to high-end, three-story rentals.
It was a strategic move based on a lack of large new rental units to accommodate families, Grace said. He said his partners also decided they wanted to retain ownership of the property
in perpetuity. The total cost for the six contiguous lots on Nottingham was about $3.4 million, according to the Palm Beach County Property Appraiser.
"We think this product is the missing link," Grace said about the luxury rentals. "And this issuch a great location for a larger-format rental community."
While Nottingham Boulevard is an unpolished area of West Palm Beach abutting anindustrial area on Georgia Avenue, Realtors said affluence is oozing past the barriers thattraditionally separated upscale homes on the east side of Dixie Highway from neighborhoodson the west side.
"The 400 and 500 blocks are really becoming desirable because they are close to Flagler(Drive) but are more affordable," said Realtor Jefferson Kiely, who is listing a house on the300 block of Nottingham east of Dixie for $1.2 million. "The area still feeds into South Olive Elementary, so for families who want to get in there but can't quite swing a big sale price, this would be an answer."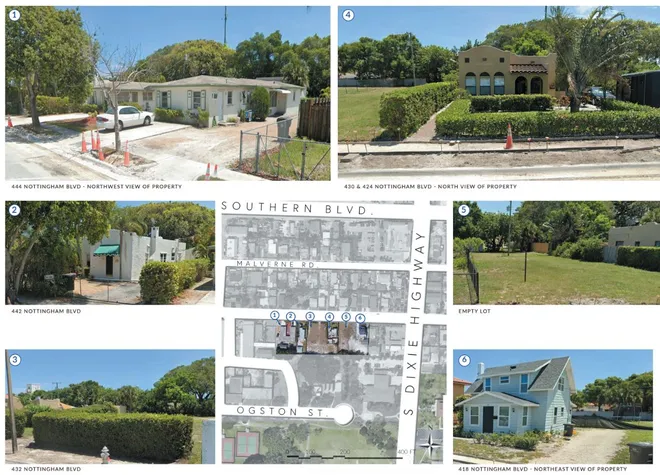 South Olive Elementary School is an A-rated school that opened in 1954 and has long beencoveted by families in the southern reaches of West Palm Beach.
Sabra Kirkpatrick, a Realtor and sales director for Brown Harris Stevens in Palm Beach andWest Palm Beach, said there is a market for high-end rentals east of Interstate 95 and neardowntown, especially as new Class A office space is built. The city has earned a reputation ofbeing Wall Street South, with firms such as Goldman Sachs and hedge fund ElliotManagement putting down roots in the city.
Kirkpatrick said she's had clients rent at the luxury Casa Mara apartments at 3111 S. DixieHighway until they could find a home they wanted to buy. The most inexpensive rental at Casa Mara is $2,325 a month for a 613-square-foot studio apartment.
And what many transplants to West Palm Beach crave is new construction, Kirkpatrick said.
"There are plenty of older homes in historic El Cid, but they are not new and they don't come with new amenities," Kirkpatrick said. "I think there is a niche for new rentals that we need to fill."
NDT hasn't settled on a rental price for the units yet, saying it will depend on overall construction costs and market conditions.
The lots on Nottingham Boulevard were bought by a limited liability company named BRP Nottingham Blvd. They include vacant land, single-family homes and a five-unit apartment complex. While three of the homes date to the 1920s and 1930s, the area is not in a historic district, so there is more leeway to raze structures for new construction.
According to drawings submitted to the city's Plans and Plats Review Committee, thedevelopment will include four seven-unit buildings painted in muted cream and beige huescalled "pink champagne," "foggy dew," "bronze," and "Saint Clair gray."
The complex will have two access driveways to separate traffic into and out of thedevelopment. Parking would include 56 garage spaces on the first floor of the units, and 14on-street guest parking spaces on Nottingham Boulevard.
Parking constraints and added traffic from the development are a concern for Bobby Birdsall, whose family has owned Birdsall Marine Design on Nottingham Boulevard since 1991. His business is on the same side of the street as the proposed townhomes and next to the FEC tracks.
"Brightline hurt us because backing boats in is a real pain in the butt now," Birdsall said. "From a business standpoint, we would have a harder time working out of the facility if there was more traffic."
NDT Development, which partnered with Place Projects on Nora, broke ground on the $1billion plan in late May. Nora, which is short for North Railroad Avenue, is the largestplanned redevelopment in the city's history since CityPlace, now known as The Square.